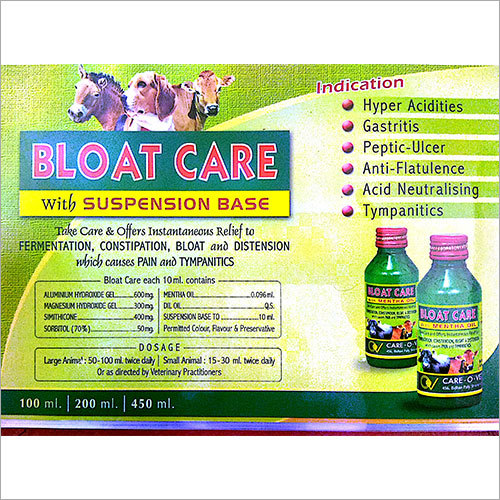 Product Description
The Bloat Care Mentha Oil that put forward by us is ideal medication to provide relief to fermentation, constipation, bloat and distension which can cause of pain as well as tympanitics. This is an effective anti-flatulence, precisely formulated from the best in quality natural ingredients with approved method. Free from chemical compound and impurities, this kind of oil has good shelf life and least side-effects. In addition, the Bloat Care Mentha Oil is available with us in sealed bottle packaging of 100ml., 200ml., and 450ml.
Takes Care & Offers Instantaneous Relief to FERMENTATION, CONSTIPATION, BLOAT and DISTENSION which causes PAIN and TYMPANTICS.
Indication
Hyper Acidities

Gastritis

Peptic-Ulcer

Anti-Flatulence

Acid Neutralising

Tympanitics
Current Packing: 100 ml. | 200 ml. | 450 ml.
Composition
Each 10 ml of BLOAT CARE contains
ALLUMINIUM HYDROXIDE GEL…….600mg
MENTHA OIL……..0.096ml
MAGNESIUM HYDROXIDE GEL………300mg
DIL OIL…………Q.S.
SMITHICONE……………………………………400mg
SUSPENSION BASE TO……10ml.

SORBITOL(70%)…………………………………50mg

Permitted Colour, Flavour & Preservative
Dosage
Large Animal : 50-100 ml twice daily | Small Animal : 15-30 ml. twice daily
Or as directed by Veterinary Practitioners
Other Products in 'Veterinary Feed Supplement' category