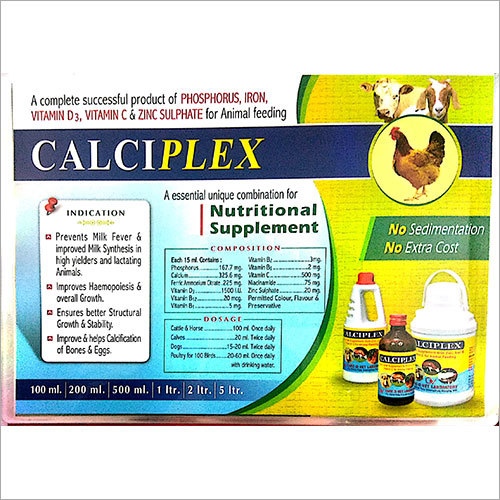 Product Description
Calciplex Nutrition Supplement is a complete successful product of Phosphorus, Iron, Vitamin D3, Vitamin C & Zinc Sulphate for animal feeding. It helps prevent milk fever and improved milk synthesis in high yielders and lactating animals. It guarantees better structural growth & stability. Also, it makes haemopoiesis and overall growth better. It improves and helps calcification of bones & eggs. No sedimentation and no extra cost, the Calciplex Nutrition Supplement comes in quality packaging of 100ml., 200ml., 500ml., 1ltr., 2ltr, and 5ltr.
INDICATION
KEEP IN A COOL PLACE

NOT FOR HUMAN, ANIMAL USE ONLY

SHAKE THE BOTTLE BEFORE USE
Composition


NUTRITIONAL VALUE


Each 20ml. Contains:
Vitamin B12 ………………………….100 mcg.
Vitamin B1 ……………………………10 mg.
Vitamin B2 ……………………………5 mg.
Vitamin B6 …………………………….3 mg.
Zinc Sulphate …………………………20 mg.
Iron (FAC) ………………………………225 mg.
Copper ……………………………………10 mg.
Cobalt …………………………………….5 mg.
Phosphorus …………………………..1750 mg.
Calcium …………………………………3,500 mg.
Niacinamide …………………………75 mg.
Carbohydrate ……………………….40%
Colour, Flavour & Preservative
GROWTH PROMOTER
DOSAGE
CATTLE, HORSE & BUFFALO: 50-100 ml. Twice Daily
CALVES, GOAT, PIG & SHEEP: 20-40 ml. Twice Daily
POULTRY for 100 BIRDS: 20-60ml. with Drinking Water
Other Products in 'Veterinary Feed Supplement' category