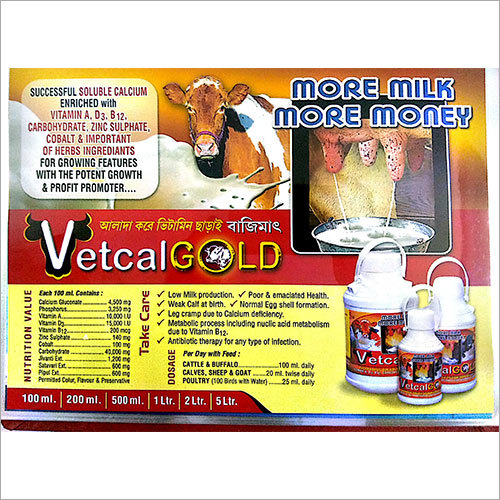 Product Description
Cow Vetcal Gold Feed Additive is a successful soluble calcium enriched with vitamin A, D3, B12, Carbohydrate, Zinc Sulphate, Cobalt and important of herbs ingredients. This type of feed additive is advantageous in low milk production, poor & emaciated health, weak calf at birth, normal egg shell formation, and leg cramp due to calcium deficiency. This is an effective antibiotic therapy for any kind of infection. Cow Vetcal Gold Feed Additive comes up with plastic bottle packaging of 100ml., 200ml., 500ml., 1ltr., 2ltr., and 5ltrs.
Successful SOLUBLE CALCIUM Enriched with
VITAMIN A, D3, B12,CARBOHYDRATE, ZINC SULPHATE, COBALT
& IMPORTANT OF HERBS INGREDIANTS for growing features with the potent growth & profit promoter…
Take Care
Low Milk production.

poor & emaciated Health.

Weak Calf at birth.

Normal Egg shell formation.

Leg cramp due to Calcium deficiency.

Metabolic process including nuclic acid metabolism

due to Vitamin B12.

Antibiotic therapy for any type of infection.
Current Packing: 100 ml. | 200 ml. | 500 ml. | 1 Ltr. | 2 Ltr. | 5 Ltr.
Composition
Each 100 ml. Contains:

Calcium Gluconate……………….4,500 mg.
Phosphorus…………………………..3,200 mg.
Vitamin A…………………………….10,000 I.U.
Vitamin D3………………………….15,000 I.U.
Vitamin B12…………………………..200 mcg
Zinc Sulphate…………………………..140 mg
Cobalt……………………………………….100 mg
Carbohydrate……………………..40,000 mg
Jivanti Ext. …………………………..1,200 mg
Satavari Ext. …………………………..600 mg
Pipul Ext. ………………………………..600 mg
Permitted Colour, Flavour & Preservative
Dosage
Per Day with Feed:

CATTLE & BUFFALO………………………………………100 ml. daily
CALVES, SHEEP & GOAT…………………………20 ml. twise daily

POULTRY (100 Birds with Water)……………………25 ml. daily
Other Products in 'Veterinary Feed Supplement' category