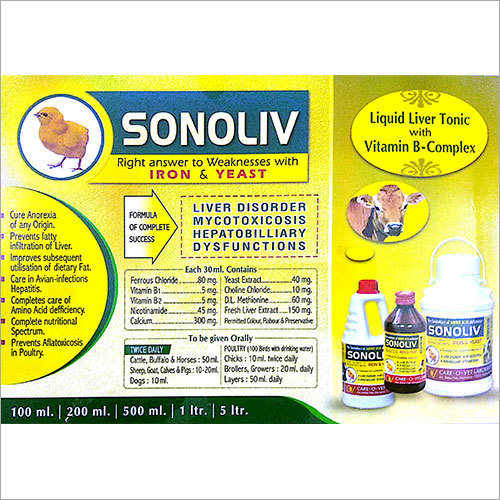 Product Description
Liquid Liver Tonic with Vitamin B-Complex is beneficial in preventing fatty inflammation of liver. The provides a complete care of amino acid and nutritional contents deficiency. Also, this type of tonic helps make subsequent utilization of dietary fat better. Composed of the best in quality natural ingredients with laboratory tested formula, this is free from any harmful substance, and has long shelf life. Additionally, the Liquid Liver Tonic with Vitamin B-Complex can be availed in first-rate bottle packaging of 100ml., 200ml., 500ml., 1ltr., and 5ltr.
RIGHT ANSWER TO WEAKNESSES WITH IRON & YEAST
INDICATION
A formula for complete success in
LIVER DISORDER

MYCOTOXICOSIS

HEPATOBILLIARY DYSFUNCTIONS

Protect from Heat & Sun Light.

Keep in a Cool place.

Shake the Bottle before use.
LIQUID LIVER TONIC with VITAMIN B-COMPLEX
Composition
Each 30ml. Contains

Ferrous Chloride ………………………..80 mg.
Vitamin B1 …………………………………..5 mg.
Vitamin B2 …………………………………..5 mg.
Nicotinamide ……………………………..45 mg.
Calcium ………………………………………300 mg.
Yeast Extract ……………………………..40 mg.
Choline Chloride ……………………….10 mg.
D.L.Methionine ………………………….60 mg.
Fresh Liver Extract ……………………150 mg.
Added Colour, Flabour & Preservative
Dosage
TO BE GIVEN ORALLY
Cattle, Buffalo & Horses: 10ml. twice daily
POULTRY FOR 100 BIRDS:
Chicks: 10ml. twice daily
Brollers, Growers: 20ml. daily
Layers: 50ml. daily
NOT FOR HUMAN MEDICINAL USE.
FOR VETERINARY USE ONLY.
Other Products in 'Veterinary Feed Supplement' category