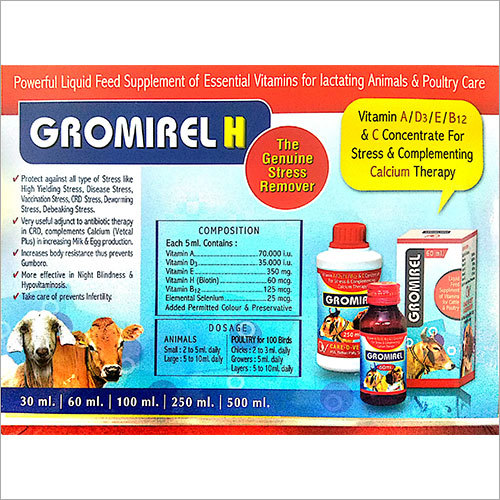 Product Description
Poultry Liquid Feed Supplement that proposed by us is a combination of an essential vitamins for lactating animals as well as poultry care. This is the genuine stress remover that is enriched with vitamin A, D3, E, B12 & C. It is an effective concentrate for stress and complementing calcium therapy. Composed of a variety of chosen natural ingredients with tried & tested formula, the Poultry Liquid Feed Supplement is free from adulteration, and comes in varied packaging options like 30ml., 60ml., 100ml., 250ml., and 500ml.
Powerful Liquid Feed Supplement of Essential Vitamins for lactating Animals & Poultry Care.
INDICATION
Protect against all type of stress like High Yielding Stress, Disease Stress, Vaccination Stress, CRD Stress, Deworming Stress, Debeaking Stress.

Very useful adjunct to antibiotic therapy in CRD, complements Calcium (Vetcal Plus) in increasing Milk & Egg production.

Increases body resistance thus prevents Gumboro.

More effective in Night Blindness & Hypovitaminosis.

Prevents Infertility.
Current Packing: 30 ml. | 60 ml. | 100 ml. | 250 ml. | 500 ml. | 1 Ltr.
Composition
Each 5 ml. Contains :
Vitamin A……………………..70 I.U.
Vitamin D3……………………35 I.U.
Vitamin E……………………350 mg.
Vitamin H (Biotin)………60 mcg.
Vitamin B12………………125 mcg.
Elemental Selenium……25 mcg.
Added Permitted Colour & Preservative
Dosage
ANIMALS
Small : 2 to 5 ml. daily
Chicks : 2 to 3 ml. daily
Large: 5 to 10 ml. daily
Growers : 5 ml. daily

Layers : 5 to 10 ml. daily
POULTRY for 100 Birds
Other Products in 'Veterinary Feed Supplement' category