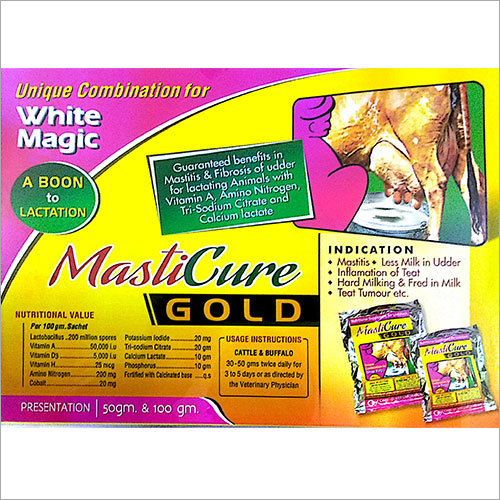 Product Description
The Veterinary Masticure Powder that introduced by us is a boon to lactation. This type of powder is guaranteed advantageous in Mastitis, less milk in udder, inflammation of treat, hard milking & fred in milk,teat tumour etc. Enriched with vitamin A, Vitamin D3, Vitamin H, cobalt, and Amino Nitrogen, this is is safe to use and unadulterated as it is tested by expert professionals. In addition to this, the Veterinary Masticure Powder is provided to clients in the sealed packet packaging of 50gm. and 100gm.
Guaranteed benefits in Manstits & Fibrosis of udder for lactating Animals with Vitamin A, Amino Nitrogen, Tri-Sodium Citrate and Calcium lactate.
INDICATION
Mastitis

Less Milk in Udder

Inflamation of Treat Hard Milking & fred in Milk

Teat Tumour etc.
Current Packing: 50 gm. | 100 gm. Poly Packet
Composition
Per 100 gm. Sachet
Lactobacillus……200 millions spores| Potassium Iodide…20 mg.
Vitamin A……………………… 50,000 I.U. | Tri-sodium Citrate….20 gm.
Vitamin D3……………………….5,000 I.U. | Calcium Lactate…10 gm.
Vitamin H…………………………….25 mcg | Phosphorus…10 gm.
Amino Nitrogen …………………200 mg. | Fortified with Calcinated base…Q.S.

Cobalt……………………………………..20mg.
Dosage
CATTLE & BOFFALO
30-50 gm. twice daily for 3 to 5 days or as directed by the Veterinary Physician.
Other Products in 'Veterinary Feed Supplement' category