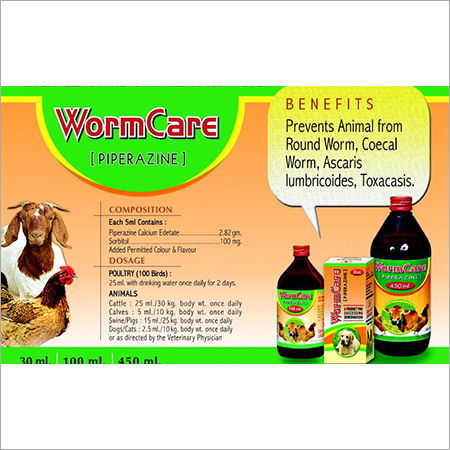 Product Description
With an aim to be a leader in our domain, we are becoming as one of the promising manufacturers and suppliers of Wormcare Piperazine. It is comprised of extracts from varied herbal extracts. It is known to enhance the digestive system by getting rid of various types of worms. It works by sensing ability and killing the worms. Wormcare Piperazine also reduces stress level resulting in better conditions of animals.
Composition
Each 5ml contains:
Piperazine Calcium Edetate……………………..2.82gm.
Sorbitol…………………………………….100mg.
Added Permitted Colour & Flavour
Dosage
POULTRY (100 Birds):
25ml. with drinking water once daily for 2 days.
ANIMALS
Cattle: 25ml./30kg. body wt. once daily
Calves: 5ml./10kg. body wt. once daily
Swine/Pigs: 15ml./25kg. body wt. once daily
Dogs/Cats: 2.5ml./10kg.body wt. once daily
Or as directed by the Veterinary Physician
Other Products in 'Veterinary Tonic' category